How to survey a replacement door
(ALL SIZES ARE EXAMPLES)
First tip is this, if you are not fitting the door get whoever is to do the survey. No fitter worth their salt will expect or accept measurements from the client. A good fitter knows what he is doing, what tolerances they like to work to etc. so when it comes to ordering, get sizes from your fitter. You are measuring the overall width and height of the door including the door, the frame and external cill. All measurements should be taken brick to brick, not frame to frame.
Width
Measure in 3 points; top (A), middle (B) and bottom (C) and take the smallest measurement. Based on the sample dimensions above this would be 895mm.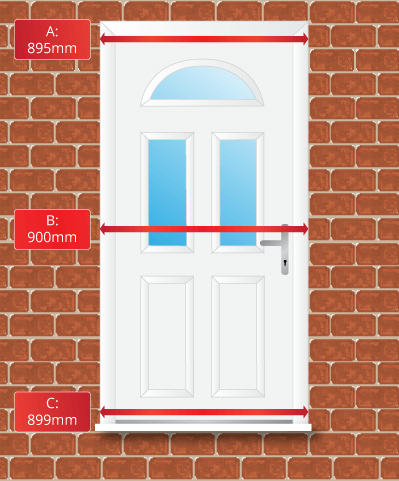 Height
Measure again in 3 points; left (1), centre (2) and right (3) and take the smallest measurement. Remember if the door requires a cill your measurements should be taken to the underside of the existing external cill. Based on the sample measurements above this would be 2095mm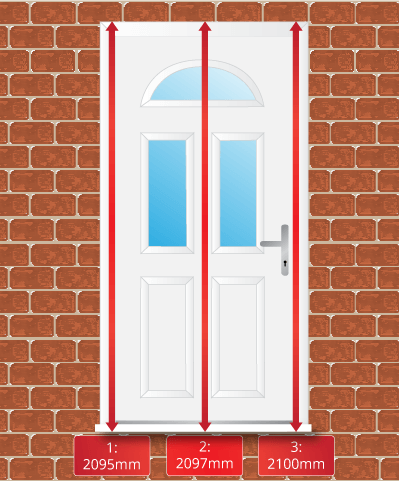 Once you have your two smallest dimensions deduct 10mm from each to allow for a fitting tolerance. This is a guide, if you feel you need to allow more or less due to your fitting methods than please allow accordingly. In accordance with our sample dimensions which are 895mm x 2095mm brick work sizes, we would order the door at 885mm x 2085mm inc. cill
Diagonals
Ensure the opening is square by measuring the diagonals as shown in red. There should be no more than 5mm difference between each measurement.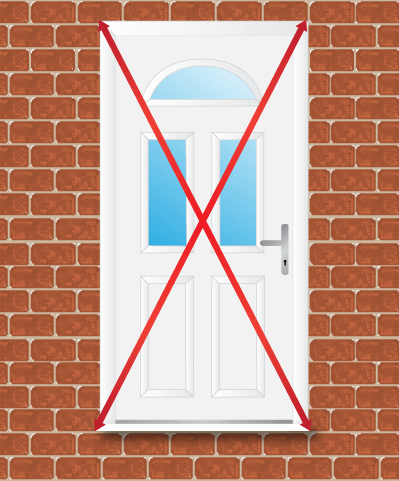 Please remember that hinge side and opening directions are as viewed from outside the property.
This measuring guide is only a guide to assist an experienced tradesperson or competent DIYer carry out a survey. Dunster House Ltd. do not accept any liability for inaccurate surveys.