How to survey a bay or bow uPVC window
(ALL SIZES ARE EXAMPLES)
The measurements required when surveying a bay or bow window are different to a replacement flat window. Please read our brief guide on how to measure for these types of window. As bays get more segments it can be tricky to get all of the measurements so if you are unsure, get a professional in, it>s not worth the risk or expense to get it wrong.

If you>re not fitting the windows get whoever is to do the survey. No fitter worth their salt will expect or accept measurements from the client. A good fitter knows what he is doing, what tolerances they like to work to etc. so when it comes to ordering, get sizes from your fitter.
Splayed Bay Windows

Length A-B/ C-D: 600mm
Length B-C: 1200mm
Length B-E: 300mm
Length A-D: 2400mm
Height: 1250mm
The back span
The back span (A-D) is the internal width of the bay that is measured from inside frame to inside frame. You may have to chop back the plaster on the inside to locate the frame edge. Please note it is surveyed inside and not outside except for the height which is measured from outside e.g. outside brickwork sizes & inside plaster lines. Heights will should include cills if required.
The projection
The projection (E-B) is the distance from the back span in the drawing below to the inside of the front window. This example indicates there is 300mm to the inside of the bay. you may wish to utilise a string line to make taking this measurement easier.
The internal facet widths
These are the individual windows that make up your bay and are 600mm in the above diagram. these dimensions are taken from inside so that whatever existing corner post is in place do not get included in your measurements.
The method above allows the calculation of the angle where the two windows meet using trigonometry.
If your bay has more segments you are still following the same guidelines, there will just be more facets and more projections. Remember there is nothing wrong with getting someone to measure these for you.

Length A-B/ E-F: 600mm
Length B-C/ D-E: 615mm
Length C-D: 615mm
Length B-G: 330mm
Length C-H: 525mm
Length A-F: 2550mm
Height: 1350mm
Square Bay Windows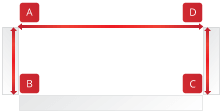 The bay is set at 90 degrees, so all you need to do is measure the internal sizes of each facet. We will then add on the two 90-degree posts. The height is measured from the outside.
Length A-B/ C-D: 600mm
Length A-D/ B-C: 2400mm
Height: 1250mm
Bay Jacking Posts
When a bay is load bearing (i.e. it has a bay window above it) to comply with the building regulations it must be fitted with load bearing bay pole jacks. These jacks fit through the external welded sill and can then be adjusted by being wound up or down to compress the bay pole on to a top plate supplied and on to the head of the aperture. Please check with us with regard to the load bearing capacity of our bay pole jacks.
How Do Bow Windows Differ from Bay Windows?
A bow window has a very shallow angle and the projection is a lot less than for a bay window. For an existing bow window measure as you would a Bay window. Those wishing to convert a flat window into a bow window need to know the external brickwork opening sizes and how many facets you will require as well as the projection. if you are purchasing a canopy from us with your bow window this will dictate the Bows projection. if you are purchasing or building a canopy yourself this will dictate your Bows projection and we will need you to supply this dimension
This measuring guide is only a guide to assist an experienced tradesperson or competent DIYer carry out a survey. Dunster House Ltd. do not accept any liability for inaccurate surveys.