Composite Doors - specification
Adjust the Size of the Door to match your own measurements
Entering your measurements
This Step of the processes allows you to submit the sizes , in Millimetres (mm), that you would like the door manufactured to.


Please change the size of the door to match your own measurements. Click on any size (Shown in millimetres) which appears with either a red arrow above them or just with as numerals with a blue line through (See above).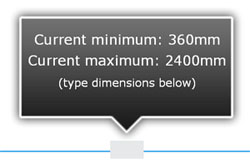 Amend each size as required, within any minimum or maximum production sizes allowed, which may appear highlighted in a black text box (See above)

If you enter any size which is above or below the current maximum or minimum a text box will appear (See above).

Certain sizes will be automatically calculated based on other size information shown for each door. These appear as white numerals in a red text box (See above)
Cill included?
The sizes confirmed will always include any Cill
Manufacturing and measurement tolerances
Our manufacturing works within tolerances of 2-3mm.
Please ensure the sizes you provide are not tight brickwork opening sizes as your new door may not fit, always allow a tolerance of about minus 10mm in the width and minus 10mm in the height. (Reduce size further if your opening is not square, out of level or has protruding bricks as your new door must be installed square, level and plumb).
Assumptions
We will always assume :
The normal width for a side opening sash is 600mm, this is measured from the edge of the outer frame to the centre of the mullion (vertical bar). Exceptions: If the door divides into equal parts of less than 650mm (divided by mullions) then your side opener will be set at an equal division. However, if you specify egress hinges it will revert to a 650mm wide section. If you specify easy clean hinges it will revert to a 600mm wide section.
The normal height of a fanlight sash is 360mm, this is measured from the top of the frame to the centre of the transom (horizontal bar). Georgian bar, diamond and rectangular lead will be laid out according to our best practice.
Need Help?
If you are having any problems or have any questions about the door you want to order please call our Sales Department on 01234 272 445
The colours shown are designed as a guide only, if colour accuracy is vital please ensure you have seen a foil swatch before making your final selection.
Our uPVC products are available in White or Woodgrain effect

We use 100% virgin uPVC to prevent discolouration and keep your windows looking nice and white for years to come!

Woodgrain Effects

Our Woodgrain finish products (made from uPVC, not timber) feature attractive whorl effects for a more realistic wood appearance than the fake looking lined wood grain pattern that many others often use. This means you get the beautiful look of wood without all the maintenance

White Profile

Rose Wood Profile

Golden Oak Profile

Anthracite Grey Profile

Chartwell Green Profile

Irish Oak Profile

Black/Brown Profile

Cream wood effect Profile

Rose Wood on White Profile

Golden Oak on White Profile

Anthracite Grey on White Profile

Chartwell Green on White Profile

Irish Oak on White Profile

Black/Brown on White Profile
The colours shown are for guidance only, however due to the nature of the material, batch and print restrictions there may be a difference between them which is unavoidable and for which we cannot accept liability. The paint has been prepWe offer a chargeable swatch service for customers who require an individual swatch for guidance. Please call the sales team to assist you with this.
External colour only.
Please note that only the outside of the door sash (opener) will be coloured. The outer frame of the door, the inside of the sash, and any side panels or toplights will be in white.
External & internal colour.
The external/ internal sash and door edge banding will be your selected colour.
White

Agate

Anthracite Grey

Azure

Very Berry

Black

Blue

Bolero

California

Chartwell Green

Citrine

Clay

Clotted Cream

Cotswold

Cream

Diablo

Emerald

Florida

French Blue

Golden Oak

Green

Irish Oak

Marsala

Military Grey

Moonshine

Mulberry

Nimbus

Nut Tree

Olive Grove

Red

Rosewood

Shadow

Solid Silver Grey

Slate

Stormy Seas

Twilight

Vanilla

Victory Blue

Solid Wedgewood
We offer a range of external colours with a white interior as standard. Coloured both sides is available as a cost option.
You can choose if you want your door to open inwards into your home or outwards.

You can also choose which side of the door the hinges are positioned on, this will determine if the door opens to the right or the left.
Our Side Lights include `toughened` glass as standard - for added safety and security.

`Toughened` glass isn`t necessary in the top windows panes currently, but it can be added as an optional extra if required.
Optional Spy Hole in Gold.

See who is at your door with an optional Spy Hole.

To allow customer to install the Spy Hole at their desired height, Spy Holes are supplied separately to be fitted once the door is in place.

If you order both a Knocker and a Spy Hole, this will be supplied as one unit, also separate from the door to be fitted later at the required height.
Â
The door knocker can give your door a more traditional feel and add an element of decoration as well as having a practical use.
Gold Door Knocker
(Available at extra cost)

Chrome Door Knocker
(Available at extra cost)

White Door Knocker with spy hole
(Available at extra cost)

Chrome Door Knocker with spy hole
(Available at extra cost)

Gold Door Knocker with spy hole
(Available at extra cost)
Letterboxes are available in either white, gold, or chrome so you can match it to the colour of your door handle, or you can opt for a white letterbox that will blend into a white coloured door panel, (available at extra cost).
White Letter Box
(Available at extra cost)

Gold Letter Box
(Available at extra cost)

Chrome Letter Box
(Available at extra cost)
Our door handles are secured internally to prevent them being removed from the outside. The locking system works by pulling up the handle to activate the mechanism before turning the key, and pushing down to open. Doors are supplied with white handles, as standard, or for a more modern look you can opt for either gold or chrome handles, at an extra cost. Regardless of the handle colour, the part where the key goes in will always be brass in colour.


| | | |
| --- | --- | --- |
| White Lever Door Handle | Gold Lever Door Handle | Chrome Lever Door Handle |
| | |
| --- | --- |
| | The standard locking mechanism is a Lever/Lever which allows you to open the door using the handle from inside and outside, if you wish to not be able to open the door using the handle from the outside and instead have to use a key then please select the split-spindle mechanism as described below (available at extra cost). |
| | With a split spindle the locking mechanism works differently on the inside and outside of the house. The handle works as normal from the inside - push down to open, and lift up to activate the mechanism before turning the key. From the outside, pushing down on the handle does not operate anything and the door is always partly locked when it is closed. This means that a key is always needed when entering from the outside. |
Our composite doors offer the highest level of security. The super-strong structural frame combined with glass-reinforced plastic and reinforced steel outer frame, provide infallible protection against intruders.

Our composite doors also feature as standard Yale Lockmaster 2 hook, deadbolt and latch making it difficult for potential intruders to lever the door open.
You can also upgrade to the Ingenious Duplex 4 hook, hookbolt and latch.

Obscure Glass
(Available at extra cost)

Add an element of privacy with the option of obscure glass.

Any patterned glass over 1300mm – will not be able to run as shown on the website. The pattern will run side to side not top to bottom as shown .
Add decoration to the glass in your door to give it an even more attractive appearance.
Yale Platinum 3 Star Anti Snap Cylinder
The highest accredited euro cylinder available in the UK today
TS007 3 Star rated out of the box - no need for cylinder guards or security handles
Snap Secure Technology
Anti Snap, Pick, Drill and bump resistant
British Standard Kite mark logo stampted
Yale Platinum 3 Star Anti Snap

Yale Platinum 3 Star Anti Snap Thumb Turn
(Available at extra cost)
A door cill sits at the bottom of the exterior door frame to aid the drainage of water away from the door and house. The depth of cill needed will depend on how far back your door is set into the wall.
Low Threshold
(Available at extra cost)

A low level aluminium threshold, which means that there is less for you to step over as you enter the door. This gives easier access, making it ideal on wider doors for wheelchair users.

A low threshold can only be specified on doors with no side panels on. If specified with doors with side panel/s then the overall width must be greater than 1350mm if there is 1 side panel, or 1800 if there are 2 side panels. If this option is selected on doors with side panel/s then panels will be supplied separately to the door frame with coupling trim.

(Note: no external cill will be provided when this option is selected)

Stub cill

A stub cill sits within the window cavity and is typically used when a cill is required to breach a gap between the new window and an existing structural cill. The stub cill can be placed to allow water to flow down on to the other surface that will drain the water away from the building.

150mm cill

The 150mm cill is the most popular option for windows set approx 25 mm back from the brick face.

180mm cill

A 180mm cill is typically used for windows that are set further back from the brick face, approx 50mm.
If the door has a cill as part of the structure of the house, eg. a stone or brick cill, you may not require a cill as there may already be sufficient means of drainage in place.

If you select to include an external Cill as part of your door order, it will be automatically included in the overall height of your door.

150mm and 180mm include Cill End Caps. Stub Cills do not need them and so they are not included.
The fixing pack is very, very competitively priced, contains most items needed for installation of windows/doors into standard masonry, you'll probably need these anyway and you'll save £££'s over buying from a DIY store. The pack contains:

* 1 tube of Silicone (Silicone is for external use only)* 10 fixing bolts* 1 masonry drill bit